From Fr. Jorge
17th Sunday of Ordinary Time/2015
I AM HUNGRY!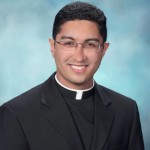 Dear Parishioners and Friends,
There is a story about a little boy who got into a heated argument with his sister about who was going to get the last brownie, and his mother overheard this discussion and came in to try to resolve the fuss. Her two children were extremely upset because each wanted that last brownie. So sensing the opportunity to teach a deeper spiritual truth, the mother looked at her children and asked that very relevant question..."What would Jesus do?" Well, that little boy immediately answered, "That's easy. Jesus would just break that brownie and make 5,000 more!"
The multiplication of loaves and fishes in today's Gospel teaches that Jesus meets the most basic human need, namely hunger, with generosity and compassion. Today's readings also tell us that God really cares about us and that there is enough and more than enough for everybody. As Gandhi used to say, "There are people in the world so hungry, that God cannot appear to them except in the form of bread."
Even though we continue fighting against hunger with super production and technology, we are still living in a hungry planet. We are hungry not only for food, but for love, justice, knowledge, dreams, and mercy. In one sentence, we are still hungry for God, who is the bread of life and the only one who satisfies our hungry hearts.
So, today's readings give us two choices in order to take the hunger off the table: we can either give up or give it all. The little boy in the Gospel chose the second option and I believe we should imitate his example. Now, just writing these reflections makes me feel so hungry and, therefore, I confess I am hungry for change. Are you?
Peace,
Fr. Jorge
Like us on Facebook
Follow Us on Twitter!