When was the last time you were able to read a truly inspiring, moving book about your faith?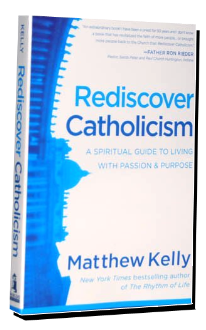 The Parish Book program from Dynamic Catholic helps bring parishioners some of the most popular, inspiring and easy to understand Catholic books available today. "Rediscover Catholicism" by Matthew Kelly shows readers how Catholicism is not some lifeless set of rules and regulations, but a way of life designed by God to help each person reach his or her full potential. With remarkable insight, Kelly dispels dozens of myths that cause people to lose their Catholic Faith and provides a profound and practical vision of what will lead the Catholic Church to a thriving future.
St. Joan of Arc would be happy to provide a copy of this powerful book for anyone interested — to help you reintroduce a family member to the Catholic Faith, or to give yourself a deeper experience of the meaning and the riches of Church teachings.
Use the form below to contact us if you or someone you know would like a copy of this book, made available at www.dynamiccatholic.com