The Story of Our Patroness Saint Joan of Arc, Virgin
Joan of Arc, Patroness and heroine of France, was born on January 6, 1412, in Domremy, a small village on the border of France and Loraine. She was the fourth child of Jacques d'Arc and Isonelle Romee who although poor were among the upper class of the village, Jacques being a Doyen, or official, of the town.
Until the age of thirteen Joan lived the ordinary life of a girl in her circumstances, helping her mother with sewing, cooking and other household chores. Indeed, in later years, she was to say that she could hold her own, in sewing, with any of the women of Rouen. Most of Joan's free time was spent outdoors; she greatly enjoyed playing in the fields with her companions. While she also took her turn at watching the sheep, it is incorrect to refer to her a shepherdess, as she was quick to point out.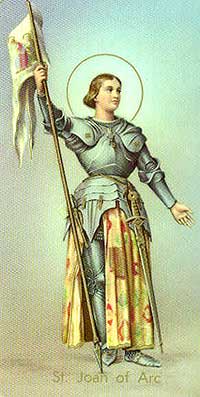 As was usual in those times Joan did not learn to read or write. Her only teacher was her mother, who taught her the Our Father, the Hail Mary, and other simple prayers along with the rudiments of her faith.
One day, around noon, when Joan was in her father's garden she saw a bright light coming from the direction of the church, and a voice, which she came to recognize as St. Michael, told her to be a good girl and not to be afraid. For the next four years Joan continued to hear her "Voices", now St. Michael was joined by Sts. Margaret and Catherine. She was instructed and counseled by her heavenly friends and eventually was told that she would raise the siege of Orleans and conduct the Dauphin Charles to Reims to be crowned King of France.
Heading the command of the "Voices", Joan traveled to the nearby town of Vaucouleurs from where, after convincing the Governor of her good faith, she left with a small escort for Chinon, where the Dauphin was then in residence. Arriving there after a hazardous journey, she was, after a short delay admitted to the Chateau where she met the Dauphin. Following her public meeting with Charles, a private meeting was held at which Joan convinced him of her heavenly inspiration. Before taking definite action Charles ordered the Archbishop of Reims to conduct a hearing to determine Joan's good faith. The hearing was held at Poiters, and resulted in Joan being declared a good Christian and of good faith. Thereupon Charles approved the raising of an army and gave Joan a personal staff along with a suit of armor and a banner.
This new army, with Joan as its inspiration, if not its nominal chief, then proceeded to Orleans, which had been under siege for some time. Following a series of battles the English forces were compelled to withdraw, thus liberating the city the first week of May, 1429. The victorious French then conducted a campaign along the Loire River freeing a number of towns which had been under siege and occupied by the enemy. The greatest victory being at Paytay where Joan surprised the main English force, capturing the English Commander and inflicting some 5,000 casualties.
Following this series of successes, Joan prevailed upon the Dauphin to accompany the army's triumphant march at Reims. This he agreed to do and upon reaching Reims the Dauphin was crowned Charles VII in the Cathedral where the Kings of France had been crowned for centuries. In a place of honor, along with nobles of the realm, stood Joan.
Joan now considered her mission to be fulfilled but she was prevailed on to remain at Court. However now that Charles was true King of France, he no longer paid heed to Joan's advice listening rather to the self-seeking associates. After staying at court for some time, Joan took to the field again where she met with indifferent success. In May of 1430 she learned that Burgundian allies of the English were in the vici n i ty of Compiegne, whereupon she headed for that town to aid her "good friends of Compiegne." In a skirmish just outside the gates of the town Joan was taken prisoner on May 24th.
John of Luxemburg, Joan's captor, eventually sold her to his English allies for the sum of 10,000 gold Livres. At last Joan was in the hands of her enemies, who were determined to discredit her for they knew that in so doing they would cast doubt upon the right of Charles VII to the throne. It was felt that the best way of doing this would be to try Joan, before a Church Court in conjunction with the Inquisitor of France, for heresy and witchcraft. This notwithstanding the fact that the hearings conducted earlier at Poitiers under a higher jurisdiction and cleared Joan of any such charges.
The trial started early 1431 at Rouen, seat of English power in France. For several months Joan defended herself with her shrewd common sense. Finally, however, Joan agreed to sign an Abjuration, not really being aware of what she was signing. This she did and she was then sentenced to perpetual imprisonment. As soon as Joan became aware of exactly what she had admitted to by signing the Abjuration, she renounced it, saying that what she had done she did out of "Fear of the Fire." In so doing she became in the eyes of authorities a relapsed heretic, a fact which meant certain death.
Compiled and written by J. P. McKenna